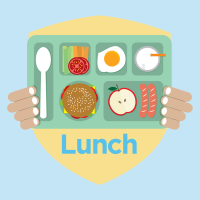 For Grades: 1st Grade 2nd Grade 3rd Grade 4th Grade 5th Grade 6th Grade
We offer a complete menu of hot lunches cooked on campus for 1st-6th grades. The cost for the 1st Semester Lunch Plan is $562.50. The cost for the 1st Semester Drink Plan is $105.
Menu items are made from fresh and wholesome ingredients. There are many options available and each boy should be able to choose a balanced meal even if he does not choose the hot lunch on any particular day.
Salads and turkey and ham sandwiches are available on a daily basis as an alternate option to the hot lunch choice. Ice cream is offered on Wednesdays and Fridays.
Our lunch program provides a balanced and healthy lunch as well as the convenience of not having to pack a lunch!
For questions about lunch, please contact Madison Spain, Director of Lunch Services.
NOTE: AUTOMATIC RE-ENROLLMENT
Please note that if your son is enrolled in the 1st Semester Lunch/Drink Plan, he will be automatically enrolled and billed $562.50/$105 for the 2nd semester. Please let us know by December 1, 2022 if you do not wish to be billed for the 2nd semester.