---
Sports Banquet 2023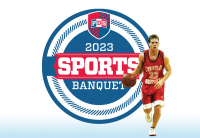 All moms and dads are invited to celebrate the All-Stars from 4th, 5th, & 6th Grades
Dress: Coat and Tie
Guest Speaker: Clint Dowdle, Sports Agent, former CBU basketball player
5:30pm Autographs / 6:00pm Banquet
Enjoy food, fun, and fellowship as we recognize all sports participants!
For all PDS 4th, 5th, and 6th graders and their parents. No siblings, please.
Speaker: Clint Dowdle
Clint was a high school standout in both basketball and football. He quarterbacked ECS to a pair of state titles in 1999 and 2000 and was named Tennessee's "Mr. Football" in Division II-A in 2000. Following his senior year, Dowdle was named The Memphis Commercial Appeal's 2001 Male Athlete of the Year.
Dowdle elected to play basketball at Christian Brothers University where he was a 4-year starter at point guard, a 3-year captain, and twice named Academic All-Gulf South Conference.
Following his career at CBU, Clint went to the University of Tennessee where he became a graduate assistant with the football program under Hall of Fame Coach, Philip Fulmer. Following Tennessee, he served as the Assistant Athletic Director for Football and External Relations at Bowling Green State University. In 2013, Dowdle was hired as the Chief of Staff / Sr. Associate Athletic Director at Kansas State University.
In 2016, Clint joined Creative Artists Agency to expand their coaches and executives division. He has since become one of the most influential agents in collegiate and professional sports, working alongside Jimmy Sexton. Last August, The Athletic recognized Clint on their 40 Under 40 list as "one of the top executives and influencers changing the game in College Sports."
Dennis Smith
This email address is being protected from spambots. You need JavaScript enabled to view it.
---