Parents' Night Out - Movie Night (JK-1st)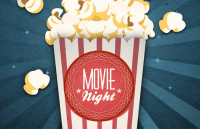 Boys & Girls Junior Kindergarten Senior Kindergarten 1st Grade
Bring a friend and join us for a night of movies and fun! We will have recreational time with friends before the movie fun begins! Boys and Girls in JK, SK, and 1st grades.

If your child has a sports game, (s)he can come late.

We will have Little Caesar's pizza and popcorn for the movie. We are looking forward to a fun night with your child!
Another version of this event is available for other grade levels:
YK-4th