Monday, July 22 , 2019

9:00 am

- Friday, July 26 , 2019

12:00 pm
Monday, July 22 , 2019

12:00 pm

- Friday, July 26 , 2019

3:00 pm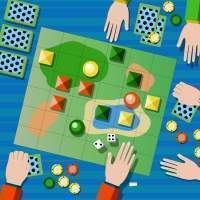 For Grades: Boys Girls Junior Kindergarten Senior Kindergarten
Get ready for a week of games: board games, card games, mind games, outdoor games, video games and more! Campers will explore new games as well as those tried and true games! Come ready to play!!
Director: Abbie Faith (YK teacher)
Thursday, July 25 , 2019

5:00 pm

-

8:00 pm
$45 ($20 for additional siblings)
For Grades: Boys Girls Pre-Kindergarten Junior Kindergarten Senior Kindergarten 1st Grade 2nd Grade 3rd Grade 4th Grade 5th Grade 6th Grade 7th Grade
We all like to get a little messy sometimes. Are you ready to go to battle?
Come wearing a white T-shirt, but don't expect to leave that way!
Phase 1 will involve shaving cream, pudding, jello, all things messy! Mission 1: The messiest team wins!
Phase 2 will involve water! Mission 2: Who can get the cleanest?!
Boys and girls are welcome! Participants will be divided by age. We will have pizza and ice cream sundaes!
Director: Becca Harris (EC Associate Teacher)